For the past few years, my art has been a reflection on the act of paying attention, on the passage of time, and on memory. My paintings vividly recreate people, places and brief glimpses of daily life as representational artworks. These sketches reveal the human landscapes through which we move and live each day – the ones we are oblivious to because we have interiorized them.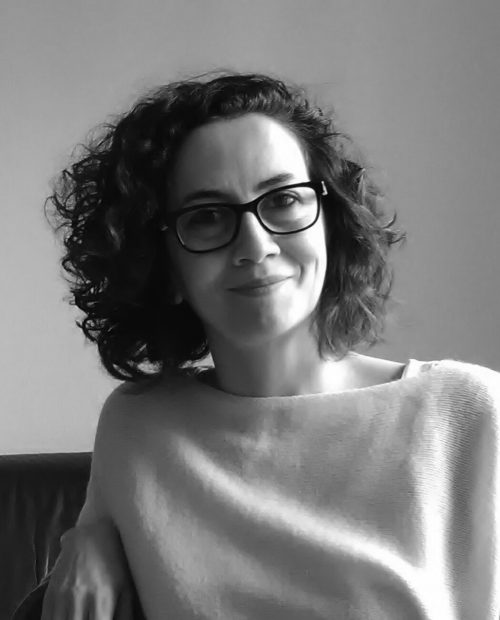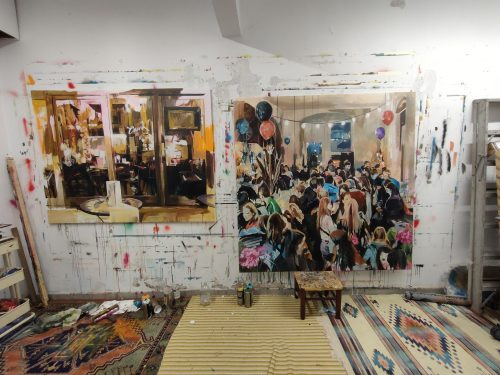 My pursuit of observation has almost spontaneously prompted work along a new thematic line for me, floral still lifes, which I have designated "serene lives". In these paintings, I evince specifically pictorial values that transmit slow-tempo visual experiences just like the "human landscapes".
Both themes bring us closer to everyday moments and reveal the tension between respite and the wearing away of every perishable thing.
My artistic process has evolved over the years and while oil was the only technique I employed at the beginning, the pictorial process has now taken on a more central role, and I have been drawn to experiment with new mediums such as acrylics, aerosols and iridescent paints.
I conceive of all these scenes with the desire and the intention of upholding our right to contemplation and of inducing a new kind of appreciation for reality in the viewer, one in which experimentation and aesthetic pleasure are guaranteed.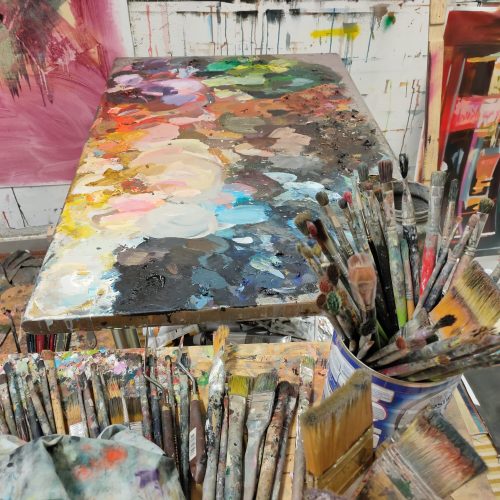 1978 Born in Medina del Campo (Spain)
1996 – 2001 Fine Arts Degree in the University of Salamanca
Since 2017 lives and works in San Sebastian (Spain)
Exhibitions and Art Fairs (selection)​
2023
-International Art Fair Art Madrid.
-Solo Show "Non Finito". Friedmann-Hahn Gallery. Berlin.
-Duo Show "Impresiones". Schortgen Gallery. Luxembourg
2022
-Solo Show "Lugares". Luisa Pita Gallery. Santiago de Compostela. Spain
-International Art Fair Art KARLSRUHE. Germany
-Group Exhibition. Schnitzler & Lindsberger Gallery. Linz. Austria
-Group Exhibition "Kunstessenzen XXVII". Friedmann-Hahn Gallery. Berlin
2021
-International Printmaking and art on paper festival. FIG Bilbao. Spain
-International Art Fair Estampa. IFEMA. Madrid
-Group Exhibition. Loft8. Schnitzler & Lindsberger Gallery. Vienna
-Group Exhibition Anquins Gallery. Reus. Spain
2020
-Duo Show "Menschlischen Landschaften". Schnitzler & Lindsberger Gallery. Graz. Austria
-Solo Show «Der anhaltende Blick». Friedmann-Hahn Gallery. Berlin
2019
-Art Fair «Art Monpellier». France
-Solo Show «Con los ojos bien abiertos». Luisa Pita Gallery. Santiago de Compostela. Spain
-Group Exhibition «AlzArte». Herraiz Gallery. Madrid. Spain
-International Art Fair Art KARLSRUHE. Germany
2018
-Solo Show «Uneak-Instantes». Tabakalera International Centre for Contemporary Culture. San Sebastian. Spain
2017
-International Art Fair Art KARLSRUHE. Germany
-Solo Show. Galerie am Dom. Billerbeck. Germany
-Group Exhibition «Kunstessenzen XVI». Friedmann-Hahn Gallery. Berlin
2016
-International Art Fair Kunst Zürich 16. Swiss
-Group Exhibition. «Kunstessenzen XIV. Berlin Berlin» Friedmann-Hahn Gallery. Berlin
-Solo Show «Berliner Straßenleben» Mühlfeld+Stohrer Gallery. Frankfurt am Main. Germany
-International Art Fair Art KARLSRUHE One Artist Show. Germany
-Group Exhibition. «Kunstessenzen XII» Friedmann-Hahn Gallery. Berlin
2015
-International Art Fair Kunst Zürich 15. Swiss
-Solo Show «Feiernacht» Mühlfeld+Stohrer Gallery. Frankfurt am Main. Germany
-International Art Fair Art KARLSRUHE. Germany
2014
-KUBOSHOW Art Fair. Herne. Germany
-Solo Show "Contemplation" Eurostars Hotel Berlin. Germany
-13. Art Fair HanseArt Lübeck. Germany
2013
-International Art Fair Berliner Liste, Berlin. Germany
-12. Art Fair HanseArt Lübeck. Germany

2012
-Solo Show Meisterschueler Gallery, Berlin
2009
-Solo Show Ajuria Gallery, Vitoria-Gasteiz. Spain
-Solo Show Hotel Casa del Capitel Nazarí, Granada. Spain
2008
-Solo Show "Territorio doméstico". Reciclarte Gallery, Pamplona. Spain
2005
-Group Exhibition "Extramuros". Rosa Santos Gallery, Valencia. Spain
-Group Exhibition "Bravo". Príncipe Felipe Science Museum, Valencia. Spain
2004
-Duo Show "La ciudad como fuente de experiencias" Ajolote Gallery, Guadalajara. Mexico
-Duo Show. University of Guadalajara. Mexico
2003
-Solo Show. Ateneu Fort Pienc, Barcelona. Spain
-Solo Show. Young´s Art Room of Generalitat of Catalonia, Barcelona. Spain
Prizes and Grants (selection)
2008
Grant of the Foral Deputation of Álava. Program "Inmersiones", Vitoria-Gasteiz. Spain
2007
Grant of the Montehermoso Cultural Center, Vitoria-Gasteiz. Spain
2004
Art residency grant in the University of Guadalajara (Mexico). Granted by the Government of Mexico and the Ministry of Foreign Affairs
2000
Talens Grant. Barcelona. Spain